Get ready to stick something PINK on your helmet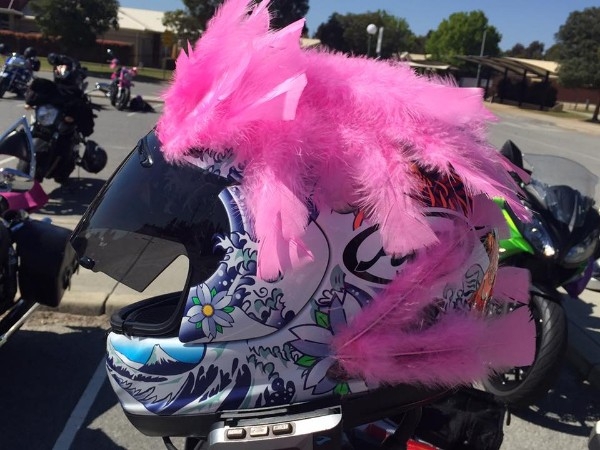 Only a month away now, we are looking forward to seeing a lot of Pink on you and on your motorcycles.
Prizes for best dressed Rider as well as Bike

Start thinking about your outfit, members have it easy, they just need to don their Pink Club T Shirt.
See you there :)
I'm doing it for cancer!
This year, WA Women Motorcycle Riders are helping Cancer Council raise vital funds to beat breast and gynaecological cancers. You can help us by attending our fundraising ride or making a donation online!
Come along and have some fun :)
Together, we can beat women's cancers.

Riders $20
Pillions $15
The registration fee includes BBQ and Salad, we will have a vegeterian option.

Wear your best pink outfit and dress your motorcycle as there will be best dressed awards as well as the raffle running.
Check out the event on our Facebook page - 
https://www.facebook.com/WAWMRPinkRibbonRide

Thank you to my Supporters Wawmr Tess Butler Carol East ( Clark Timber Solutions) Jan Mcgrath Tahlia Reale Frances Harvey Jo Groen Voula Kaplanis Una Whitesmith Ramona Jacqueline Carroll Brett Scott Mary-anne Gilbert Courtney Scott Vildana Dostanovic Carla Sussa Anonymous Krystel Cole Sandra Mutch Bernie Sinclair Deanne Scott