Say NO to cancer with Charles and Christa Billich hosted by Josephine Petrak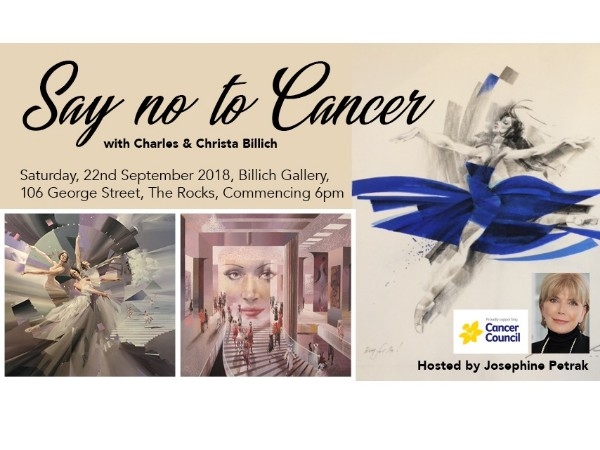 I'm hosting a charity cocktail evening Say NO to Cancer with Charles & Christa Billich at The Billich Gallery on 22 September 2018. The evening of art and entertainment will showcase the work of globally renowned artist Charles Billich. It will also feature singer Eloisa Cullington, guitarist Dave Smith, MC Will Stewart with guest speakers including Plastic, Reconstructive and Aesthetic Surgeon Dr Pouria Moradi Dr Pouria Moradi, a Cancer Council spokesperson and Charles Billich.
Sydney-based Billich is one of the most prominent living Australian painters. In a career spanning over 40 years, he has exhibited at some of the world's best venues and has been an honoured guest and resident artist on many occasions. From the Vatican Museum to the White House, the Olympic Museum in Lausanne to His Majesty King George V Tupou Palace in Tonga, the Red Cross Museum in Geneva to numerous university, government, corporate and private collections, Charles Billich has an eclectic and ubiquitous following.
Date: Saturday 22 September 2018
Location: The Billich Gallery
Address: 106 George Street, The Rocks NSW 2000
Time: Doors open at 6pm
Dress Code: Cocktail/ Formal
Tickets: https://www.123tix.com.au/events/1487/
"I am honoured to host this event to help raise awareness and much needed funds for Cancer Council," says Josephine. "After being diagnosed with breast cancer in 2014 I was very grateful for the support I received from Cancer Council during my cancer journey. I'm bringing everyone together to raise funds to support cancer research and provide vital services for Australians living with cancer"
Every year in NSW alone, more than 48,000 new cases of cancer are expected to be diagnosed. The money raised from this event will fund Cancer Council's world-class cancer research, prevention, advocacy and support programs. If you are unable to attend the event we greatly appreciate any donation to help those affected by cancer.