Join the fight against breast cancer!
Have you ever wanted to develop your personal protection skills and help others?
Do you want to contribute to a fight greater then yourself?
Krav Maga Self Defence is hosting a Pink Ribbon fundraiser to support Cancer Council raise funds for those affected by women's cancers. Every day, 50 women in Australia hear the words "you have cancer".
We want to bring everyone together to raise funds, show support and fight this disease.
October is Australia's Breast Cancer Awareness Month, which provides an opportunity for us all to focus on breast cancer and its impact on those affected by the disease in our community.
Breast cancer remains the most common cancer among Australian women (excluding non-melanoma skin cancer). Survival rates continue to improve in Australia with 89 out of every 100 women diagnosed with invasive breast cancer now surviving five or more years beyond diagnosis.
To help this worthy course, we will be holding a special workshop on Krav Maga!
- DETAILS -
Krav Maga Self Defence
G15 / 2A Victoria Avenue
Castle Hill NSW 2154
Cost: A donation to help fight Breast Cancer!
Date: 20/10/2018
Time: 1:30PM - 3:00PM
- ABOUT THE SEMINAR -
This workshop will cover the basics of Krav Maga and give you the skills and tactics and avoid, prevent and survive a violent confrontation.
Usually a seminar like this would be $77, but we are donating our time to help fight this cancer which affects 1 in 8 women. You just need to make a donation to this cause.
If you are unable to attend our seminar, you can still make a difference by donating to the cause.
Thank you to my Supporters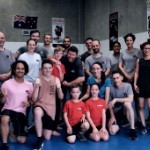 Krav Maga Self Defence Niklas A Danielsson Anonymous Bettina Welgemoed Luke Cosgrove Zoe Cosgrove Anonymous Tim Izgi Maddie And John Cosgrove Jack Watson